Filter by Category
Preserve the Past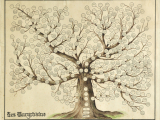 Basic American Genealogy
with Mary Douglass

Nov 4, 2017 at 10 am
, runs for 4 weeks
Learn the essentials to get started with genealogy during this four-week introduction! To begin, you will be introduced to family history, the basic tools of genealogy, home resources, evidence evaluation, and citation practice. During the second week, we will explore local government records, learning what is available and how to access and evaluate records. Next, examine other local records, including churches, cemeteries and schools. Finally, we will look at federal records, including census, military, immigration and naturalization. You will have the opportunity throughout the course to work on your genealogy in class and at home.
Genealogy requires lots of patience. In addition, please bring note taking supplies.
Register by Oct. 28th.
Full Course