Get Crafty!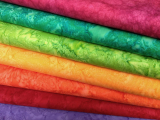 Registration Unavailable
Switch it Up: Reversible Quilts, Session 2
with Shawn Delker

Apr 20, 2017 at 6 pm
, runs for 2 weeks
NEW SESSION ADDED! Members of the waiting list for the original class will be given priority enrollment. Registration is not available online.
Quilters, join this exciting, new class! The most difficult and expensive part of making a quilt can be the quilting. Often, you end up either paying someone else to quilt for you or have to stuff your large quilt through your sewing machine. In this course, Shawn will help you with that problem by introducing well-known quilter Sharon Pederson's technique, where each block is stitched and quilted, and then assembled, creating a unique quilt on each side. You will learn the basics of this technique as you make a small, crib-sized quilt. Salina Public Library has Pederson's book in the collection, so after class you are encouraged to check it out for more ideas with this method!
Please bring with you a sewing machine in good working order, rotary cutter and mat, ruler (either 9½-inch square or 12 ½-inch square is ideal), small scissors, fabric and thread. You will also need batting (Warm and Natural batting, 80% cotton/20% polyester, is a good choice). Do not use thick, puffy polyester batting for this technique, as it is much too hard to quilt on a regular sewing machine. We will tell you more about the fabric you should bring upon enrollment.
Register by April 13th.
Full Course