Explore Your Community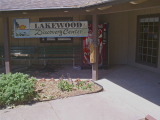 Lakewood Discovery Center Open House
with Brian Underwood

May 13, 2017 at 10 am
Lakewood Discovery Center is one of Salina's great treasures with something for everyone, so take some time to explore our natural world! Staff will welcome you with tours and opportunities for hands-on learning. You are invited into the wildlife sanctuary to hike the many trails highlighting different Kansas habitats. Learn about birding, gardening and hydroponics. There is no registration required for this free, family-friendly open house.
Full Course
Registration Unavailable
Tour Salina Public Library
with Joe McKenzie

Mar 30, 2017 at 5:30 pm
You may think you've "been there and done that" at our community's library, but this tour will prove there's always more to see! Join our director for a special look at library history, past and current use of our space and services, and a behind-the-scenes tour of our back rooms where collections and services are developed. How did we get our Technology and Learning Centers? Did you know that our vibrant and active Youth Services Department will celebrate 20 years in their renovated, lower-level location this year? If you have ever wanted to hear a librarian talking loudly in a library, this is a can't-miss opportunity!
Register by March 23rd.
Registration Unavailable
Tour the Fire Station
with Firefighters from Station #1

Apr 6, 2017 at 1:30 pm
Full Course